Brown Family


Source List.


Samuel Jenkins Brown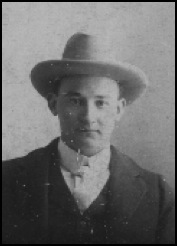 Samuel Brown was born on 2 Apr 1884 in Elm Grove, Fayette County, Texas. His mother Betty died when he was two-years-old.

On 27 Jan 1906 when Samuel Jenkins was 21, he married Dora Blanche Littlefield, in West Point, Fayette County, Texas.



Found inside one of Samuel's tobacco sacks, 40 years after he died, was a folded up piece of cloth imprinted with a picture of his wife Blanche who died when she was 23 years old. He must have carried the picture around until he died 47 years later. Until that cloth was found their descendants did not know what Blanche looked like.




Sam with Coaly and Wheeler.


Samuel was a farmer.

Samuel died in Gonzales, Gonzales, Texas on 15 Apr 1957; he was 73. He is buried in Colony Cemetery in Colony, Fayette County, Texas.

See Samuel's Tombstone.



Samuel's Family Tree

Father

Nathan Washington Brown

Mother

Elizabeth Harrison ("Betty") Braddock


Wife

Dora Blanche Littlefield

Children

1. Marvin Leonard Brown
m. Eula Lee Bertling
2. Elvis Plintle ("Pete")
m. Agnes Meyer