Thomas Family


Sidney Byron Thomas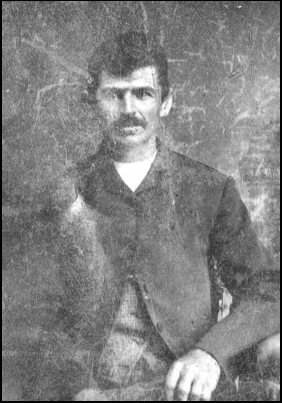 Photo courtesy of Carol Prescott

Sidney was born on May 7, 1852 in Arkansas. He appears on the census in Yell County, Arkansas in 1860 and 1870 with his parents.

On February 23, 1881 when Sidney Byron was 28, he married Louisiana Elizabeth "Birdie" Little, in Hix, Burleson County, Texas. Their marriage certificate is on file at the Burleson County Courthouse.

See photos of Hix, Texas in the 1800s.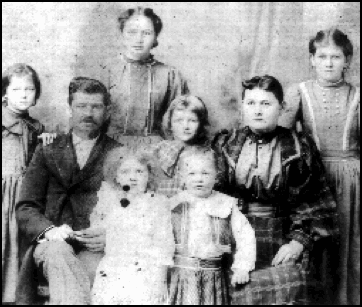 Front row: Beatrice and Jim Thomas. Middle row: Nonnie, Sidney, Elizabeth, Birdie, Emmie. Back row: Aline.
Photo courtesy of Kathryn Barnes.


He and Birdie appear on the censuses for 1900 and 1910 in Burleson County. A nephew named John lived with the Thomases in 1900.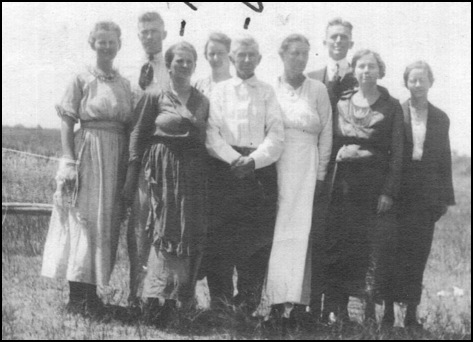 Birdie and Sidney Thomas (2nd and 3rd from left front row). Beatrice Parker on far right. Late 1910s.
Photo courtesy Carol Prescott.


Sidney was a farmer.

Sidney died in Gause, Burleson County, Texas on Aug. 11, 1921; he was 69. He was buried on Aug. 12, 1921 in Hix Cemetery, Burleson County, Texas.


Died at Hix.

S.B. Thomas, aged 69 years, a prominent citizen of the Hix community died at his home Thursday last and his remains were buried at the old Macedonia Cemetery Friday, the services being conducted by Rev. L.E. Strickland of Waco. Mr. Thomas came to Texas when a boy and had lived in Burleson County ever since with the exception of two years in West Texas. He is survived by his wife and five daughters, Mesdames J.S. Beard and P.H. Renfro of Milano, H.E. Graham of Gause, L.L.F. Parker of Spur and J.W. Woods of Somerville and two sons, J.L. and S.B. Thomas of Hix.

Burleson County Ledger, Aug. 19, 1921, p. 1, on file at the Center for American History, Austin, Texas.

Sidney's Family Tree

Father
James K. Thomas

Mother
Eliza H. Foster

Wife
Louisiana Elizabeth "Birdie" Little

Children
1. Aline "Allas" M. Thomas
(b. 1882 Texas)
m. James Beard
2. Emma C. Thomas
(b. 1884 Texas d. 1950 Texas)
m. Horace E. Graham
3. Martha E. "Lizzie" Thomas
(b. 1886 Texas)
m. Bill "Willie" Woods
4. Nonnie A. Thomas
(b. 1888 Texas)
m. Horrie Renfroe
5. Beatrice Ida Thomas
(b. 1892 Texas d. 1982 Texas)
m. Rev. L.L. Fox Parker
6. James Lee Thomas
(b. 1893 d. 1977)
m. Clara Ruth Porter
7. Charles Sidney Thomas
(b. 1902)
m. Emma Fox