Thomas Family


James K. Thomas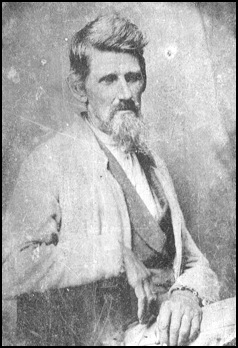 Photo courtesy of Carol Prescott

This photo may be James K. Thomas. It was a tin-type photo taken about the same time as the picture of Sidney Thomas according to Carol Prescott, whose mother owned the picture. Kathryn Barnes suggested this is Richard Wallace Hall.

James was born in 1824 in South Carolina.

James was a farmer. He fought in the Civil War while his family lived in Yell Co., Arkansas.

On 9 Mar 1842 when James Keith was 18, he married Eliza H. Foster, in South Carolina.

James Keith died in Yell Co., Arkansas before 27 Jan 1872; he was 48.



The Thomas Family

By Cornelia Thomas Hall Dec. 30, (probably) 1944 Courtesy of Kathryn Barnes

D.B. Thomas, his wife was Mary E. Johnson, was my grandfather. … to them was born 9 children Nancy, Susan, Agusta, Marthy, Amanda, Sally, 3 boys, Daniel, James Keith, Robert.

James K. Thomas was my father. He married Eliza Foster to them was born 7 children Edwin died in infancy, Keith died at 17, Monroe, Sidney, Mary, Charles, and me &emdash; Cornelia Keith Thomas.

My grandfather came from South Carolina. My father was born there to [sic] and later moved to Ark. I was born in Yell Co., Ark. And later moved to Texas in 1875.

My grandfather was ?? Thomas in the ?? war in the 17th ?. He was a large man, had steel gray eyes with dark hair, at one time was a rich man but when slaves(?) was freed he went broke. He was master ? and spent most of his time in traveling ? the Civil War after I knew him he was ? religious in younger days he was very kind to the poor ? had food ? loads of food taken to them. He used to have me light his pipe and tell me when his estate was restored I should never want for any thing. In his last days he would have my father come talk to him on religion and pray for him. He died in 1873 as far as I know. Was Irish descent.

My mother was Eliza Foster. Her father was James I. Foster. Her mother was Mary Stribling. Before marriage she had 4 brothers and 4 sisters. Mother was low and slender when young, had dark hair and blue eyes. … I think she was from Holland descent on her father's side. She was born in South Carolina and was married there.


James' Family Tree

Father
Daniel Thomas

Mother
Mary Johnson

Wife
Eliza H. Foster

Children
1. James K. Thomas
(b. 1845 South Carolina)
2. Monroe H. Thomas
(b. 1849 Arkansas)
3. Sidney Byron Thomas
(b. 7 May 1852 Arkansas d. 11 Aug 1921 Burleson County, Texas)
m. Louisiana Elizabeth Little
4. Mary E. Thomas
(b. 1854 Arkansas)
m. Lusk
5. Charles P. Thomas
(b. 1859 Arkansas)
6. Cornelia Keith "Nin" Thomas
(b. 1862 Yell County, Arkansas d. 1945)
m. Richard Wallace Hall