Little Family


Louisiana Elizabeth "Birdie" Little Thomas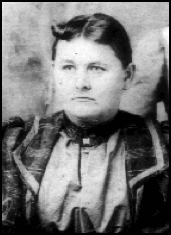 Louisiana Elizabeth, "Birdie," was born on May 14, 1866 in Lawrence County, Alabama.

In the 1860 census in Lawrence County, before Birdie was born, Birdie's parents lived near a family with a daughter named Louisiana. The parents were William and Mary J. Blackston. Louisiana Blackston may have been the inspiration for Birdie's unusual first name.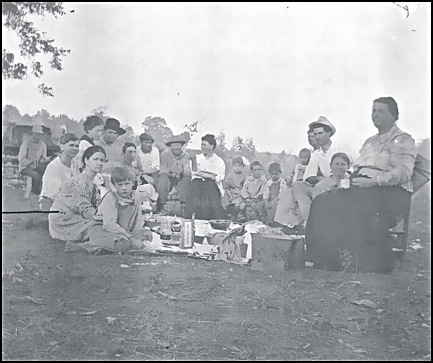 Picnic in Hix, Texas. Girl to the left, with arrow, is Wilney ("Billie") Edith Thomas (b. 22 Nov 1883).
Birdie is on the far right.

Photo courtesy of Carol Prescott.

My Mother was Elizabeth Little, her pet name was "Birdie". That name stuck with her through life. Mother had two brothers, Uncle Bob was the oldest and determined to be a doctor, so he went to medical college in Louisville, Ky. There was no medical college in Texas at that time. Uncle John, several years younger than Bob, wanted to be a doctor, too. In Texas at that time, a person could study under a doctor, and take the state examination; if he passed the test, he could practice medicine. Uncle John passed and was an M.D. until his death. Mother had five sisters; Kate, Sallie, Alice, Nellie & Mollie.
--Beatrice Ida Thomas Parker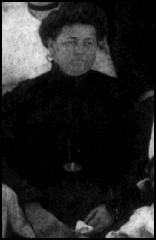 Birdie in 1908.


Birdie died just shortly after her husband in Cameron, Milam County, Texas on 19 Nov 1921; she was 55. She is buried in Hix, Burleson County, Texas.


Died at Cameron.

The remains of Mrs. S.B. Thomas, aged 55 years, an estimable lady of the Hix community, who died at the hospital in Cameron Saturday arrived here and were taken out to the family burying ground at Fraimvill Sunday where they were tenderly laid to rest beside those of her husband who preceded her only about three months since, Rev. McKenzie of this city conducted the services. Deceased was one of the most highly respected women of that community, a devout christian, a kind mother and willing worker for Christ. Peace to her ashes.

Burleson County Ledger, Caldwell, Burleson County, Texas, 25 Nov. 1921, p. 7. (Center for American History, Austin, Texas)

See Birdie's Tombstone.
Birdie's Family Tree

Father

James Lee Little

Mother

Mary A. Lansdale


Husband

Sidney Byron Thomas

Children
1. Aline "Allas" M. Thomas
(b. 1882 Texas)
m. James Beard
2. Emma C. Thomas
(b. 1884 Texas d. 1950 Texas)
m. Horace E. Graham
3. Martha E. "Lizzie" Thomas
(b. 1886 Texas)
m. Bill "Willie" Woods
4. Nonnie A. Thomas
(b. 1888 Texas)
m. Horrie Renfroe
5. Beatrice Ida Thomas
(b. 1892 Texas d. 1982 Texas)
m. Rev. L.L. Fox Parker
6. James Lee Thomas
(b. 1893 d. 1977)
m. Clara Ruth Porter
7. Charles Sidney Thomas
(b. 1902)
m. Emma Fox