DeMoss Family

Jane Ann "Jennie" DeMoss Brown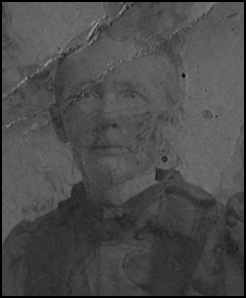 Photo courtesy of Betty Sanders.


Jane Ann was born on 18 Aug 1826 in Claiborne Parish, Louisiana.

When she was 16, she married Samuel Jenkins Brown. Justice of the Peace Richard Wright married Samuel and Jennie in Union County, Arkansas. At that time, both Samuel and Jennie were living in Claiborne Parish, Louisiana. They had nine children who lived to adulthood. Samuel and Jennie had six other children who died in infancy or as young children.


"Papa's mother [Jennie] was French-Maiden name DeMoss or Moice (Demoss) Grandma's brother had bank in Homer Louisiana…. Grandfather Brown (Samuel) and family came from Homer Louisiana. First to Arkansas then to near Flatonia on account of my dad (AJ Brown's) health…. Grandma Brown lived with Uncle Nathan till she died, weighted only 78 pounds when she died. Papa's grandmother could speak only French. Was contrary. …"

Oral history of Nettie Clara (Brown) Lynch, Andrew Jackson Brown's daughter

Samuel and Jennie appear on the census for Claiborne Parish, Louisiana, on 23 Sep 1850; then on the census for Hempstead County, Arkansas, in 1860; and on the census for Claiborne Parish, Louisiana, in 1870. They came by wagon train to the area near Flatonia, Texas in 1871, because of concerns about their son Andrew Jackson's health.


Jennie was on the census for Fayette County, Texas, in 1880, and again in 1900 when she was living with her son Nathan Brown.


Jennie died in Colony, Fayette County, Texas, on 15 May 1908; she was 81, and weighed a mere 78 pounds at the time. She is buried in Colony Cemetery, Fayette County, Texas.

See Jennie's Tombstone.


Colony Cemetery.




Jennie's Family Tree

Father
George DeMoss

Mother
Nancy Gryder

Husband
Samuel Jenkins Brown

Children
1. George Leonard Brown
2. Andrew Jackson ("Jack") Brown
m. Alice Campbell
3. William Henry ("Billy") Brown
m. Mary Frances ("Molly") Westbrook
4. Mary Jane "Mollie" Brown
m. Melvin C. Sellers
5. Nathan Washington Brown
m. Elizabeth "Betty" Harrison Braddock
6. Frances E. ("Fannie") Brown
m. William (Henry Wilson) Braddock
7. Nancy ("Nannie") K. Brown
m. George Washington Bowers
8. Samuel Price Brown
m. Arthur Ellen Wallis
9. Martha California ("Callie") Brown
m. John Williams Bowers