Crowell Family


George Miller Conquest Crowell





Photo courtesy of Ople Crowell.


George Miller Conquest Crowell was born 16 Apr 1841, in Moscow, Franklin County, Alabama.

George was a Confederate soldier who was captured and held as a prisoner of war at Camp Chase until the end of the war. During the war Dr. D.C.A. Moses, also of Franklin County, befriended young George. Dr. Moses died during the war. George returned to Franklin County and married Dr. Moses' wife, Mary Eskew Moses, and took in her two surviving children by Dr. Moses. They subsequently moved to Texas.


Camp Chase, Ohio, where George was held prisoner of war, was called "Camp Marsh" for its rain and flat terrain. "The government administrators never built barracks adequate to hold the number of men confined, and open latrines and cisterns contributed to an unhealthy environment. One prisoner described Camp Chase as 'one of the filthiest of the many pens assigned for the confinement of our men.'" Civil War, Issue 59.

In His Own Words

"Before me the undersigned authority on this day personally appeared G.M. Crowell who after being duly sworn on oath says that on Wednesday before the battle of Shilo I left home and went into the battle of Shilo with my older brother. I was wounded in this battle and returned home. At this time I was not a Confederate soldier but was on a visit to my brother who was also wounded at Shilo.

"After I got well in the spring of 1863 I joined Co.B. Fourth Miss Regiment of Cavalry and served with said co. until the 23rd day of Dec. 1864 when I was captured, and sent to Camp Chase Ohio where I was released or paroled on the 16th day of May 1865, when I returned to my home in Alabama."

George Miller Conquest Crowell's Affidavit to the State of Texas, County of Caldwell
Nov. 29, 1912


In his Oath of Allegiance to the United States upon surrender, George was 24 years old. He was described as having a light complexion, light hair, blue eyes, 5 foot, 11-1/2 inches tall.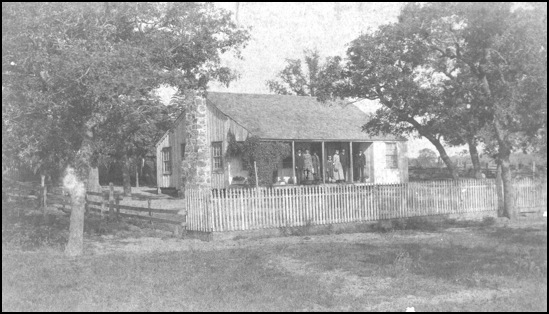 The Crowell Family Home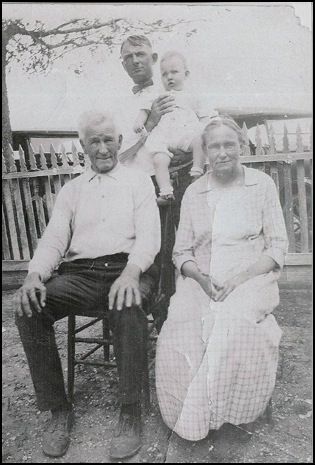 Standing: Lewis Clyde Bertling and son Douglas Bertling.
Sitting: George Miller Crowell and Annie Catherine Crowell Bertling.



Later in life, George resided at the Texas Confederate Home in Austin, Texas. While a resident there, he wrote his daughter Annie Crowell Bertling a number of letters. His hands hurt terribly, so occasionally he would have a fellow resident, E.A. Watts, who owned the gin on Plum Creek near the Crowell family home, write his letters.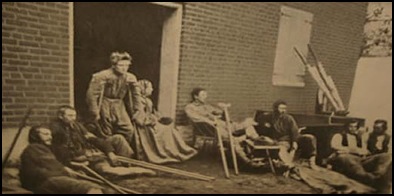 Photo from Confederate Home, not dated, individuals unknown.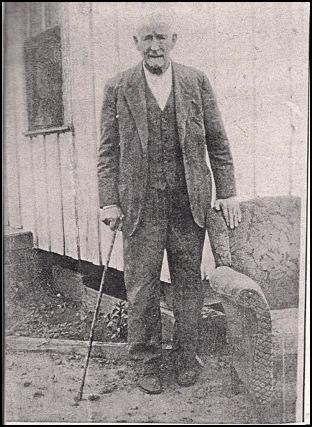 George died in the Texas Confederate Home in Austin, Texas on 10 Feb 1932. He is buried at McNeil Cemetery in Caldwell County, Texas.

See George's Tombstone.


George's Family Tree

(Family Photographs)

Father

Harrison Crowell

Mother

Mary Polly-Anna Sides


Wife

Mary Tabitha Eskew

Children

1. John O. Franklin Crowell
(b. 1866 Alabama d. 1952)
2. Cross Conquest Crowell
(b. 1868 Alabama d. 1960)
m. Ada Probst
3. Annie Catherine Crowell
(b. 1871 Columbus, Colorado County, Texas d. 1960 Belville, Austin County, Texas)
m. John Cleveland Bertling
4. Lula Oma Crowell
(b. 1875 Columbus, Colorado County, Texas)
m. W. Claude Ramsey
5. Minnie Virginia Crowell
(b. 1877 d. 1877)
6. Lillie Alice Crowell
(b. 1879 Columbus, Colorado County, Texas d. 1971 Luling, Caldwell County, Texas)
m. Ernest Wiseman "Wisie" Biggs