Wernli Family


Gottlieb Wernli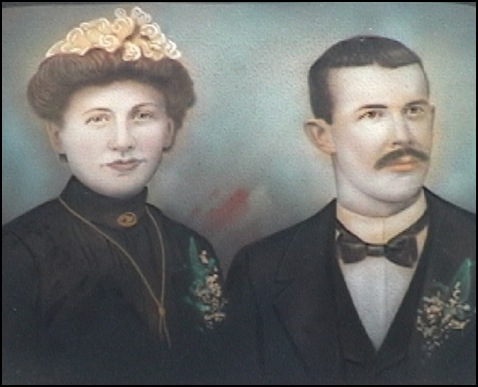 Photo courtesy of Rudy Wernli




Gottlieb Wernli was born on 8 Jun 1877 in Waschnau, Solothurn, Switzerland.

In 1901 when Gottlieb was 23, he married Rosa Kaiser, in Switzerland.

He immigrated with his wife Rosa on 2 Jul 1905 from Worschnau, Switzerland on the vessel Casconie French Line. They arrived through New York City, New York. Their first child Adele was born in the harbor. Gottlieb's father Jacob Wernli followed him to America in April, 1906, arriving at the port of Galveston aboard the Hanover. Jacob Wernli had served as a member of the Swiss Army and saw border duty during the Franco-Prussion War.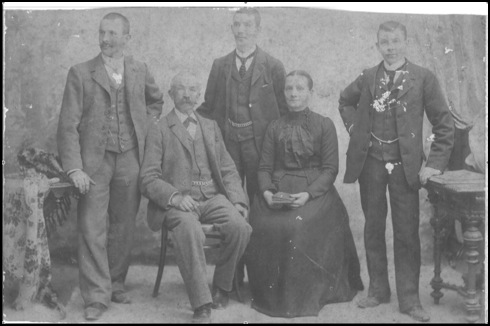 This photograph is believed to be a family portrait, with Gottlieb Wernli standing on the far left.


After residing in Williamson County for about two years he moved to Kenedy, Texas with his family. A farmer, Wernli was described in his obituary as "a man of sterling character, a good neighbor and an exemplary citizen."

Gottlieb was naturalized on 9 Nov 1912 in Kenedy, Karnes County, Texas.

Gottlieb died in Kenedy, Karnes County, Texas on 25 Mar 1928; he was 50. He was buried on 29 Mar 1928 in Kenedy, Karnes County, Texas. His daughter Alice wrote in his funeral book, "A memory sweet to remember he died with his hand in mine."


Gottlieb's Family Tree

Father
Jacob Wernli

Mother
Frena Wernli

Wife
Rosa Kaiser

Children
1. Adele Wernli
(b. 1903 Switzerland d. 1986 Texas)
2. Rosa "Rose" Wernli
(b. 1905 Switzerland d. 1975 Victoria County, Texas)
m. William C. Anthis
3. Alice Fayrene Wernli
(b. 1908 Texas d. 1957 Presidio County, Texas)
m. L.L. Fox Parker II
4. Pauline Wernli
(b. 1911 Karnes Co., Texas d. 1970 Bexar County, Texas)
m. James E. Donnell
5. Minnie W. Wernli
(b. 1913 Karnes County, Texas d. Karnes County, Texas 1978)
m. Aron Lee Allison
6. Oscar Gottlieb Wernli
(b. 1916 Karnes County, Texas d. 1954 Karnes County, Texas)
m. Pauline Natho
7. Hilda Wernli
(b. 1920 Karnes County, Texas)
m. Melvin Rieley