Kaiser Family


Rosa Kaiser Wernli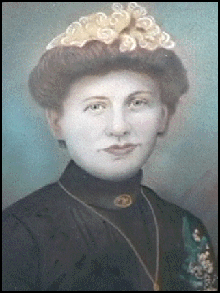 Rosa was born on 27 Dec 1877 in Solothurn, Switzerland.

In 1901 she married Gottlieb Wernli, in Switzerland.

She immigrated with Gottlieb on 2 Jul 1905 from Worschnau, Switzerland on the vessel Casconie French Line. They arrived through New York City, New York. Their first child Adele was born in the harbor.

Rosa died in San Antonio, Bexar County, Texas on 11 Aug 1939; she was 61. She was buried on 13 Aug 1939 in Kenedy, Karnes County, Texas.

See Rosa's Tombstone.


Rosa's Family Tree

Father
Josef Kaiser

Mother
Marie Stampfli

Husband
Gottlieb Wernli

Children
1. Adele Wernli
(b. 1903 Switzerland d. 1986 Texas)
2. Rosa "Rose" Wernli
(b. 1905 Switzerland d. 1975 Victoria County, Texas)
m. William C. Anthis
3. Alice Fayrene Wernli
(b. 1908 Texas d. 1957 Presidio County, Texas)
m. L.L. Fox Parker II
4. Pauline Wernli
(b. 1911 Karnes Co., Texas d. 1970 Bexar County, Texas)
m. James E. Donnell
5. Minnie W. Wernli
(b. 1913 Karnes County, Texas d. Karnes County, Texas 1978)
m. Aron Lee Allison
6. Oscar Gottlieb Wernli
(b. 1916 Karnes County, Texas d. 1954 Karnes County, Texas)
m. Pauline Natho
7. Hilda Wernli
(b. 1920 Karnes County, Texas)
m. Melvin Rieley