Parker Family

Source List.

Rev. William Allen Parker




Photo courtesy of Dan and Mary Nell Milligan.





William Arnold was born on 23 Sep 1848 in Choctaw County, Alabama.

William married Sue M. Williamson on 4 Aug. 1868 at the New Hope Baptist House of Worship in Clarke County, Alabama, by his father W. Jacob Parker. The marriage required his father's written consent because William was under 21 years of age.


"On the third Sunday in March, 1890, the First Baptist church [of Thomasville, Clarke Co.] was organized...Rev. W.A. Parker was chosen the first pastor...On the following fifth Sunday the Baptist Sunday school was organized with forty-two members. They built a large church on the lot now occupied by the pastorium."
History of Clarke Co., by John Simpson Graham, Alabama, 1923, facsimile reprint 1991, Birmingham Printing Co., reprint by Heritage Books, p. 190.


William died on 23 Jan 1914; he was 65. He is buried in Mount Enterprise, Rusk, Texas at the Shiloh Cemetery. The cemetery is located southeast of Minden, just off Highway 315.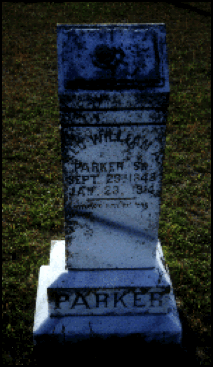 William's Family Tree

Father
Rev. W. Jacob Parker

Mother
Henrietta A. Simmons

Wife
Sue Martha Williamson

Children
1. Rev. William Albert Parker
(b. abt. 1870 Alabama d. 1936 Alabama)
2. Goodwyn B. Parker
(b. 1871 Alabama d. 1932)
m. Rev. George Mize
3. George Williamson Parker
(b. 1872 Alabama d. 1931)
m. Mamie J. Miller
4. Eula M. Parker
(b. 1873 Alabama d. 1964 Texas)
5. Mary Emma Parker
(b. 1875 Alabama)
m. George Leonard Crawford
6. W. Jacob Parker
(b. 1877 Alabama)
7. Joseph Edwin "Joe" Parker
(b. 1879 Alabama)
m. Martha Ann Nunn
8. Rev. L.L. Fox Parker
(b. 1883 Alabama d. 1960 Texas)
m. Beatrice Ida Thomas
9. Rev. John M. Parker
(b. 1885 Alabama d. aft 1941)
10. Rev. Douglas Raymond Parker
(b. 1887 Alabama d. 1918 Alabama)
m. Minnie Amanda Jones