Littlefield Family

Rice B. Littlefield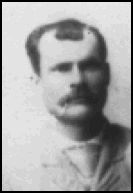 Photo courtesy of Wayne Littlefield.


Rice was born in 1868 in Texas.

Rice married Sallie Adams. They subsequently divorced. Rice's second wife was Emma Richardson. He and Emma resided on Bull Creek Rd. in Austin, Travis County, Texas according to the 1910 census. He was a farmer.

Rice died on October 5, 1924 in Moffatt, Bell County, Texas, where he is buried.

See Rice's Memorial.


Rice's Family Tree

Father
Phillip Bryant Littlefield Jr.

Mother
Rhoda Ann Burris


Wife
(1) Sallie Adams Malone (divorced)
(2) Emma Richardson

Children
With Sallie Adams
1. Dora Blanche Littlefield
(b. 1887 Gonzales, Texas d. 1910 Elm Grove, Fayette County, Texas)
m. Samuel Jenkins Brown
2. Dent Littlefield (b. 1890)
3. Leslie Littlefield (b. 1892)
4. George R. Littlefield (b. 1894 d. 1948)
5. Fay Littlefield (b. 1897)
m. Clem Longley
6. Homer Littlefield (b. 1899)

With Emma Richardson
Berma J. (b. 1903)
Leonard (b. 1905 d. 1952)
Rice (b. 1906)