Taylor Family


Clarissa Delesa Taylor Bertling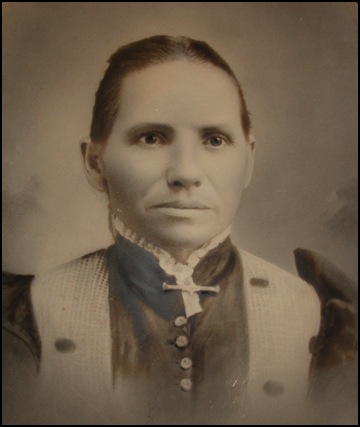 Clara Taylor was born on April 13, 1848, in Texas. She shows up in the 1850 census with her mother, brothers, and sisters in Red River County, Texas. She married Henry Bertling on July 21, 1867, in Gonzales, Gonzales, Texas.

Clara's heritage is a mystery. Read more here.

Clara died on May 20, 1906 and was buried May 21, 1906, at Denton Creek, Gonzales, Texas.


Mrs. C.D. Bertling.
DIED--At her home in Gonzales, Texas, on Sunday, May 20, 1906, at 9:30 a.m., Mrs. C.D. Bertling, aged 58 years, 1 month and 8 days. Funeral services were held this morning in the Episcopal church, Rev. L. L. Williams officiating, after which the remains were carried to the Denton creek cemetery, where the interment took place. Mrs. Bertling was a well-known lady of this section, and had been a resident of this city for a number of years, moving here from the Denton creek neighborhood. She had been a patient sufferer with an incurable disease for several years and her death was not unexpected. She leaves a husband and several children and many friends to mourn her death.
Daily Inquirer, Gonzales, Texas, Monday, May 21, 1906, Vol. IX, No. 304.


Clara's Family Tree

Father


Mother
Clarissa

Husband
Henry Bertling

Children
1. John Cleveland Bertling
(b. 1868 Gonzales Co., Texas d. 1953 Gonzales Co., Texas)
m. Annie Catherine Crowell
2. Mary Frances ("Fannie") Bertling
(b. Dec 1869 d. aft. 1953)
m. Wallace White
3. Olive Alice ("Ollie") Bertling
(b. 1 Jan 1872 d. 22 Feb 1915)
m. Willard William Granger
4. Henry Edward Bertling
(b. 26 Dec 1875 d. 12 May 1968)
m. Lora Dean Beaty
5. Adrian Taylor Bertling
(b. 22 Apr 1877 d. 23 Dec 1945)
m. Clyde Celeste Dockery
6. Charles Dee Bertling
(b. Aug 1879 d. 1953)
m. Mary Gertrude Schultz
7. Otto A. Bertling
(b. Sep 1881 d. 1906)
m. Bettie Miller
8. Clara Belle Bertling
(Jan 1883 d. bef. 1953)
m. Charles Frederick "Fred" Broer
9. Agnes Carrie Bertling
(b. Sep 1885 d. aft 1953)
m. Watson
10. Osker C. Bertling
(b. 2 Sep 1887 d. 15 Aug 1888)
11. Ethel Iris Bertling
(b. 11 Sep 1890 d. 10 Nov 1967)
m. James Elza Gescheidle Christian