Wilson Family

Source List.


Sarah Wilson Parker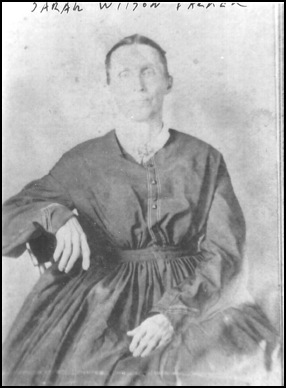 Sarah Wilson Parker

Photo courtesy of Bill Parker




Sarah was born 20 Sep 1790 in South Carolina.

On 22 Nov 1815, she married Elisha Parker in Baldwin County, Georgia. In early 1824, Elisha moved his family from Jasper Co., Georgia to Dallas Co., Alabama where he died in July 1824.

In December 1824, Sarah moved the family back to Georgia.

On 13 Feb 1827, she married James Mickleborough. They had two children. She then divorced James.

On 8 Sep 1839, in Baldwin Co., Georgia, she married Allen Simmons. Allen Simmons was previously married to Sarah Maddox, with whom he had a daughter, Henrietta Ann "Kitty" Simmons. Henrietta married to W. Jacob Parker, Sarah's son by Elisha.

Sarah died in March 1867 in Perry County, Alabama.







Sarah's Family Tree

Father
William Wilson

Mother
Sarah

Husband
(1) Elisha Parker (widowed)
(2) James Mickleborough (divorced)
(3) Allen Simmons

Children
With Elisha Parker
1. Elijah Wilson Parker
(b. 1816 Baldwin Co., Georgia d. 1892 Shelby Co., Alabama)
m. Susan B. Boles
(b. 1824 d. 1895 Shelby Co., Alabama)
2. Elder W. (William) Jacob Parker
(b. 1818 Baldwin Co., Georgia d. 1876 Clarke Co., Alabama)
m. Henrietta Ann "Kitty" Simmons
(b. 1820 Georgia d. aft. 1870)
3. George F. Parker
(b. 1821 Baldwin Co., Georgia)
m. Sarah Patton
(b. 1824 Georgia)
4. Elisha Rogers Parker
(b. 1824 Baldwin Co., Georgia)
m. Amanda A.C.F. Rogers
(b. abt 1833 d. abt 1868 Perry Co., Alabama)

With James Mickleborough
1. Elizabeth Margarette
(b. 1827 d. 1828)
2. John Moulton Mickleborough
(b. 1830)